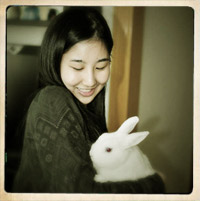 Hi! I'm a digital artist from Hong Kong, specialize in 2D game graphic, web, mobile app user interface and printed matter design.
LURAZEDA.com is a site with a collection of my artworks, also a place to share books and music I love.
About Me
After graduating from School of Creative Media (BACM), City University of Hong Kong, I worked as an in-house Web Designer at UBM Asia.
At 2008, I joined Blue Tea Games Studio to be a 2D game artist, and was happy to be a major part of the (artistic) development in their popular hidden object game series "Dark Parables".
After that I joined Ideaslab ltd. and Firstune Solution as an UI designer at to get a better knowledge on mobile and social app development.
And since I missed the game industry so much, I then worked at Smart City Technology Ltd as a senior artist. I created over a hundred characters for this innovative mobile game Heroes Flick.
At January 2016 I moved to Toronto to stay with my husband Jeffrey.
Skills
Photoshop, After Effect, Illustrator
2D Animation
2D Game Art (From concept design to artwork finalization)
User Interface Design for mobile apps
Web design (HTML & CSS)
Drawing
Typography/ Lettering
Below are a few examples of my recent artwork, you may also view my complete portfolio HERE.
Update History
Ah ha! Here comes the 13th version of LURAZEDA.com ! (19th February, 2015)
Theme designed by SoloPine @ Themeforest.
Contact me
email – karla (at) lurazeda.com
twitter – @karla
O"Um.. What does the word "Lurazeda" mean?" It's just a random word I created which "looks pretty" .. Ha-ha.. Never, ever ask me how to pronounce it, please.